Reading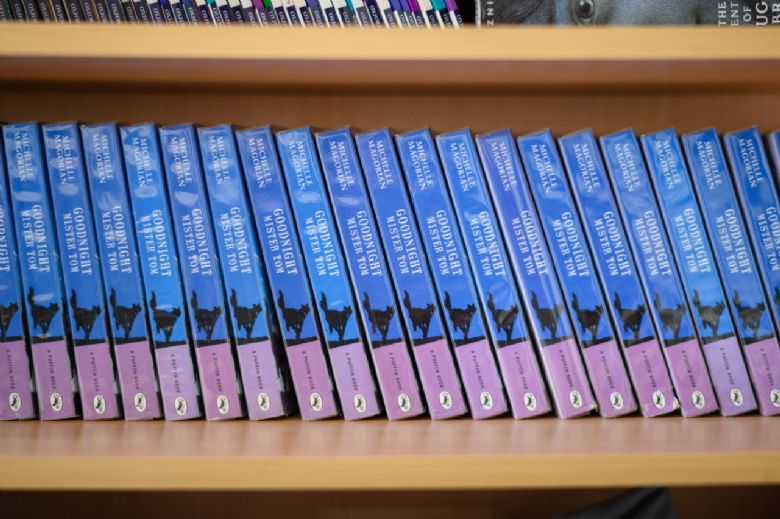 By placing reading at the heart of our curriculum we want to instil a love of reading for pleasure from the start, whilst growing successful, fluent readers who can access and comprehend a wide range of well-matched texts. By providing exposure to a wide range of quality texts we want them to gain knowledge of the world and become confident and knowledgeable talkers and writers.
Now what?
Intelligent talkers

Insatiable readers

Impeccably behaved

Inclusive Citizens

Curriculum texts are carefully chosen so that pupils have the knowledge they need to be confident and knowledgeable talkers.
Daily 'book talk' sessions allow pupils to deepen their comprehension of texts and widen their vocabulary making them knowledgeable talkers.
Deliberate, daily teaching of fluency means this skill becomes automatic, allowing pupils to focus on comprehension.

'Reading Anthologies' are carefully selected to expose children to a wide range of knowledge about the world.
Adults enjoy sharing books aloud every day instilling a love of reading for pleasure.
The school library is live and vibrant and our librarian inspires a love of reading and personalises book choices to grow a love of reading for pleasure.

All adults model excellence when handling and storing books meaning pupils treat books with care and value them.
Book match in school is carefully monitored so that pupils are reading well-matched texts within their zone of proximal development and are experiencing daily reading success.
Adults monitor and track 'reading at home behaviours' and promote and reward journeys towards being successful, fluent readers.

Reading fluency is taught from an early age so that increasing numbers of pupils are fluent by Year 4 and are able to access and comprehend a wide range of texts.
Pupils are exposed to a wide range of texts which reflect their own realities, and those of others, so they gain knowledge of the world and develop empathy and an understanding of the world.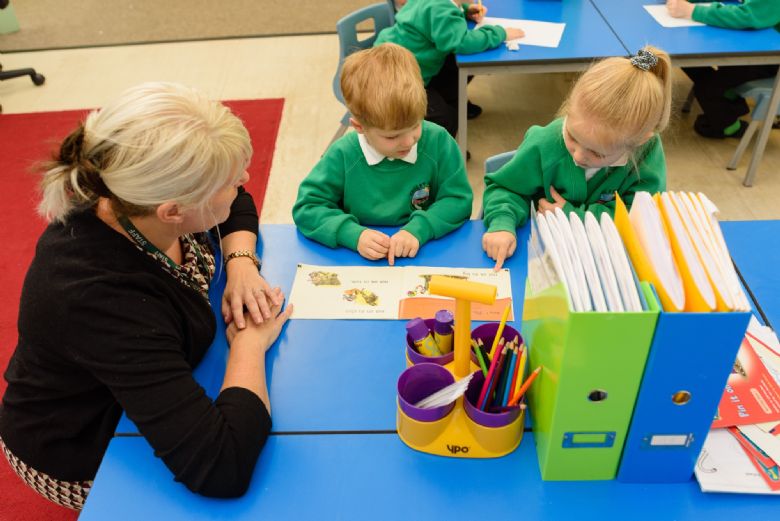 Valley Park uses the Read, Write Inc scheme of work to deliver high quality phonics teaching. Further detail can be found here.
The Valley Park Reading Pledge
We want all our children to leave primary school as insatiable readers: for learning, and for life…
We pledge to do this by:
Reading books aloud
In every classroom, every day, story time happens where everything stops…and a book is read aloud and shared for pleasure.
Teaching children how to read in a systematic way, until it becomes an automatic skill
Children will be taught systematic phonics every day through the 'Read Write Inc' Programme
Teaching children how to comprehend texts
Our youngest children will be taught the skills of reading comprehension alongside systematic phonics.
From Year 2 onwards, children will be deliberately and specifically taught reading comprehension of high quality texts in reading 'anthologies'
Sharing poems, reciting them and learning them by heart
A wide range of poems will be shared through the year in reading lessons and story time.
Poem of the Week will provide opportunities for children to recite poems by heart.
Providing 'vocabulary rich' reading classrooms
Children will be exposed to an abundance of opportunities for reading across the curriculum
| | | | | | | | |
| --- | --- | --- | --- | --- | --- | --- | --- |
| | Reception | Y1 | Y2 | Y3 | Y4 | Y5 | Y6 |
| Words read each day | 500 | 1,000 | 3,000 | 5,000 | 8,000 | 9,000 | 10,000 |
Exposing our children to high quality texts by a range of recommended authors
Every year, our children will be exposed to books from a range of recognised fiction and non-fiction books so that their knowledge of authors grows as they move towards secondary school.
| | | | | | | | |
| --- | --- | --- | --- | --- | --- | --- | --- |
| | Reception | Y1 | Y2 | Y3 | Y4 | Y5 | Y6 |
| Number of authors shared | 2 | 4 | 6 | 8 | 10 | 15 | 20 |
Encouraging reading at home
Every day, children will take home a book bag containing: a book they can read independently and successfully…..and…. a book of their choice to have read to them by someone at home.
Reading at home will be actively encouraged and celebrated in school.
| | | | | | | | |
| --- | --- | --- | --- | --- | --- | --- | --- |
| Recommended time to: | Reception | Y1 | Y2 | Y3 | Y4 | Y5 | Y6 |
| Read at home (mins per week) | 30 | 30 | 40 | 40 | 50 | 60 | 70 |
Providing a high quality, in-school library
We want to instil excellent reading habits for life by ensuring all children will visit the library regularly to interact with our highly knowledgeable librarian and choose books to borrow and enjoy at home.
Provide a range of book types, genres and authors
Each classroom will have a dedicated book area with a range of recommended texts: including - fiction, non-fiction, graphic novels, poetry, play-scripts, biographies and autobiographies, stories from other cultures, classics and modern classics, myths and legends, traditional stories, newspapers, magazines and reference books.
We want our children to enjoy reading independently for pleasure
Every day, in every classroom, there will be at least one dedicated time of peace and tranquillity where children can independently enjoy reading for pleasure.
A minimum of 10 mins in FS2 and KS1 and 15 mins in KS2.